I'm continuing my college theme week with a look today at flexible, part time jobs for college students and how they can help bring in some extra spending money.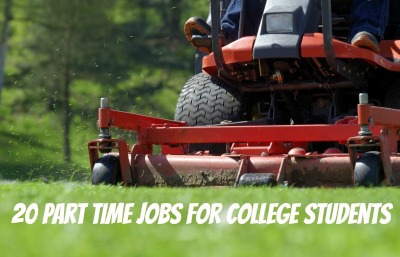 As I pointed out in my last post, there are so many hidden costs of college for which students don't prepare. More than likely they have figured out how to finance college tuition, fees, and room and board. However, those little incidental items they spend money on can certainly add up and cause a dent in the wallet. So, unless an endless stream of cash is flowing from mom and dad, students will need to secure some extra spending money.
The big question though is, what part time jobs can reasonably be done by college students? Yes, you could work a full-time job and attend classes but that's not what most students are looking for (or really need). The average student just wants enough spending money to go to parties, put gas in the car and pay for their books (maybe in that order).
With that in mind, here is a list of 20 part-time jobs and activities that could earn a college student a little bit of extra spending money.
Part Time Jobs for College Students: On Campus
A student doesn't have to leave campus to find part-time work. Although in many situations, these jobs are allotted to students who have applied and qualified for financial aid. So if you don't need financial aid these jobs may be hard to come by but are worth pursuing nonetheless.
1. Work in the cafeteria. This was my part-time college job for four years, working in the dish pit and restocking plates, silverware and other food supplies. I was able to manage between 10-15 hours per week. It wasn't always fun or clean (you try cleaning other people's plates) but it did keep me from asking mom and dad for money all the time.
2. Work in the library. If you like quiet workplaces this one's probably for you. You'll probably need to learn how to work the microfiche machine though…that can be a challenge. (Do colleges even use these anymore?)
3. Be a part of the maintenance team. Several of my friends worked for the maintenance department doing mowing, trash cleanup and dorm room repairs. With all those frat parties there will likely be a few holes to patch and paint.
4. Be an RA. A resident assistant helps oversee various sections of a dorm. It's unlikely you will get one of these positions your freshman year as they almost exclusively go to upperclassmen who have proven to be trustworthy and competent. Prove you are that and maybe pick one of these up by your junior year.
5. Type papers. My 11-year old son just started taking computer classes this year. He asked (complained to) me the other day, "Why do I have to learn typing. It's so hard." I said, "So you don't have to pay someone else to type your papers in college."
6. Sell your research papers. There are websites like myessays.com that purchase student essays and term papers. Prices can range from a minimum of $15 up to $100 for lengthy, high quality material. Just make sure you understand how the process works. And also check with your state…some have laws against the sale of term papers.
7. Participate in research or drug studies. All those braniacs in the science department are going to need humans to experiment on. (Haha…just kidding…sort of.) Listen for opportunities within your major's department for professors seeking assistance for their projects.
8. Tutor. If you have the heart of a teacher and a skill for explaining concepts to people, market yourself as a tutor. The biggest needs for this would probably be found in the math, science and English (writing) departments.
9. Blog about college. It is possible to become proficient at making money from a blog. If you understand the process this might work for you. There are some very popular college themed blogs specifically geared towards college students.
10. Do people's laundry. I know…it's hard to believe doing laundry would find it's way onto a list of part time jobs for college students. Believe it or not there are college students who can't (or won't) do their own laundry. That means you could cash in by doing someone's undies. I saw it happen at my school time and time again.
Part Time Jobs for College Students: Off Campus
Of course, not all part time jobs for college students have to be on campus. Here are ten more flexible, off campus jobs that might fit with your time and talents.
1. Waiter or waitress. This may be the most flexible job of all for the college student. Store managers will work with your class schedule, especially if your work proves to be top quality.
2. Have a roommate. If you live off campus in a house or apartment this might be an option. While not technically a job, one could rent out a room and charge them a monthly fee. So you would sort of be acting like a landlord here. Make sure to check your rental contract first to make sure this is allowed.
3. Baby sit. All those profs and other campus staff members have (want) a life too. See if you can take their kids off their hands for a few hours while they enjoy a nice evening out.
4. Be a mystery shopper. I've always wanted to do this. Companies hire people to shop their stores to see how their employees are following company procedure. Plus you will feel like James Bond going undercover.
5. Be an extra in a movie. Sound far fetched? It happens. Movie studios are all over the country, even in my own tiny county of Fayette in Georgia. Just this past Saturday Pinewood Studios sent out an open casting call for extras for their upcoming production of Marvel's Ant Man. Just don't skip a test to be one of those screaming and running street people who flees when disaster comes.
6. Recycle. Not only are you earning extra money but you are cleaning up your college town and being good to the environment.
7. Sell photos. If you have an eye for photography consider selling your photos to online websites or news publications.
8. Washing or detailing cars. This might take a little start up money to get the necessary tools you will need. If you can go to people's house or place of work to do this, you will increase your reach and profitability. Great thing is that this can be done on the weekend when classes are not in session.
9. Mow yards and do landscaping. Again some start up money is necessary but this is also a great weekend activity.
10. Give blood. Last but not least, this is an old standby on the list of part time jobs for college students – even though it's not really a job…give blood. Again, several of my college buddies did this regularly to raise some cash. It's important to understand how the process works and what to expect. Some centers will let you do this several times a week while others limit it to once a month. The going rate is $20-$40 per visit so this could add up quickly in some scenarios.
With classes and other activities, your time in college to earn money will be limited. Be creative with your schedule so some part-time work can be plugged into it. As long as work does not negatively affect your classes it's worth having that extra spending money around.
And mom and dad will really appreciate you not nickel-and-diming them every two seconds. They've paid for enough already.
For some further reading, check out this article from ThePennyHoarder.com: 32 Legitimate Ways to Make Money From Home. The article offers some very creative ways to make money, most of which are not mentioned on my list.
And there is this great article at CashCowCouple.com if you are into taking surveys online to make money.
(And if you are just looking for additional ways to save money and keep some extra cash around, I've outlined 99 of them in a document you can access for free. Just enter your email in the form below and get the list that will kick-start your journey to financial freedom.)
Questions: What other part time jobs for college students would you suggest? What job did you have in college? How many hours per work did you work? What's the craziest job you've ever heard someone doing to earn extra money while in college?
Image at FreeDigitalPhotos.net
Next Post: Does God Want Me to Attend College
Prior Post: The Hidden Costs of College: How to Manage the Incidentals