If you've ever wondered how much to pay kids for chores you are not alone. It's a question my wife and I have wrestled with again and again. I've mentioned before why we don't give our kids allowances. I'm not giving them money just for existing. It seems like that is what an allowance implies. Kids need to feel the burden of work so they can experience the joy of its rewards.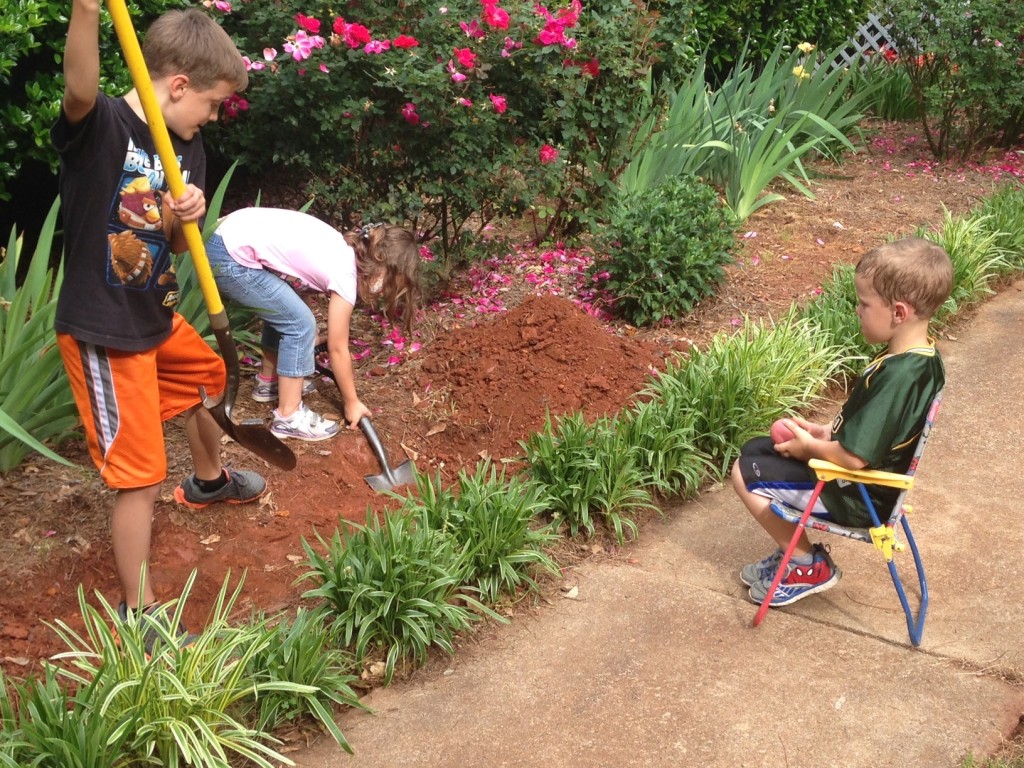 In addition to earning some money, doing chores around the house is teaching them responsibility. The home is where they should begin to learn basic life skills. When I was in school, I knew some college freshman who couldn't do their own laundry. My oldest two children have been doing that since they were nine.
Over the years my wife and I have adjusted how much we pay our kids for chores. The amounts started out small and increased as they got older. Now that our oldest has turned 16, we are looking at another radical change. Before I get to that, here is some background information that helped us decide on how much to pay kids for chores.
Questions About Paying Kids For Chores
There are so many questions that arise for parents on the issue of paying kids for chores. Some of the big ones we've wrestled with include:
"At what age should we start?"
"What tasks should my kids be doing?"
"Do I pay them for everything?"
"How much should I be paying them?"
First let me say, I'm not sure there is a cut and dry answer to those questions. We've gone back and forth on the issues since we began our work-for-pay commission program. Eight years into it, this is how we see it:
1. We choose age appropriate chores for each kid. These began at age 5 or 6. (Our oldest was actually 8 when we started the program.)
2. Also, we don't pay them for all work around the house. There are some tasks they simply do because they are part of the family. For us those include things like making beds, doing dishes, setting/cleaning the table, walking the dog, getting the mail, packing school lunches, and picking up toys inside and out.
3. We don't pay them equally. Some chores are worth more than others because of their difficulty. The older they get the more chores they do and the more they get paid.
4. Finally, there are additional chores they can voluntarily choose to complete for extra money.
How Much to Pay Kids For Chores
The question of how much to pay kids for chores is a tough one. I've heard many say the going rate is $1 per task. To me, that rate seems like a good starting point, especially for the young ones. However, as ours aged and the tasks became more challenging, we increased the amount.
My best suggestion is to make the amount paid a part of the monthly budget and do what you can afford. This has to be a personal decision upon evaluation of your own family budget.
Furthermore, remember that the real reward is found in the work ethic and responsibility being developed. The amount they actually earn is of secondary importance. 
If you can't afford much, try substituting other rewards for chores in lieu of money. Perhaps staying up later, watching an extra hour of TV or getting an additional 30 minutes playing on the iPad could be options.
Our List of Chores and Payment Schedule
These are the chores our kids are required to complete at least once per week:
Child #1 – Girl – Age 16
Sweep and mop the kitchen floor
Vacuum the stairs
Clean and vacuum her bedroom
Clean upstairs kid's bathroom (sink, toilet, shower, mop)
Do her personal laundry
Take the trash to the curb for pickup
Pay – $10/wk. (if all tasks are completed)
Child #2 – Boy – Age 14
Sweep downstairs hardwood floors
Clean the downstairs bathroom (sink, toilet)
Clean and vacuum bedroom on Saturday
Wipe down kitchen widows and glass deck door with Windex
Do his personal laundry
Clean up after dog in the yard
Pay – $8/wk.
Child #3 – Girl – Age 10

Vacuum upstairs hallway
Empty trash in mom and dad's bedroom and bathroom
Clean and vacuum her bedroom
Do her laundry and put clothes away
Clorox wipe all light switches and door knobs in house
Pay – $5/wk
Child #4 – Boy – Age 8

Wipe down the stairway railings
Empty the kid's bathroom and all their bedroom trash
Clean his bedroom on Tuesday
Do his laundry and put clothes away
Water the plants in the house
Pay – $5/wk.
The following infrequent chores and the pay rate are ones the kids can select for extra money, provided they ask us first:
Change bed sheets – $.75
Clean microwave inside and out – $1.00
Dust the downstairs – $1.50
Wipe down doors/door jams – $1.50
Clean master bathroom – $2.00
Sweep/clean garage – $3.00
Weed flower beds – $4.00
Wash cars – $5.00
Scrub kitchen grout – $6.00
Mow the yard – $6.00
Other – depends on job
The Benefits of This Chore System
You might be saying at this point, "That's a lot of money!"
Some quick calculations would cause me to agree. If all the chores are completed, we are handing over $28 per week to our kids. That's approximately $1,450 per year.
So here are a couple of points to consider to bring this into perspective:
1. Every week somebody forgets at least one chore, so the actual amount is often less.
2. We can afford and do budget for this. So this money doesn't keep us from putting food on the table or keeping the lights on.
3. We've seen some great benefits develop including:
*It's taught them the value of completing more challenging tasks. They are rewarded more and thus are driven to attempt them.
*It's helped them buy their own stuff. My daughter purchased her own iPod with the money she saved from her chores.
*It's relieved the burden we as parents feel when the kids nickel-and-dime us for spending money. All I say now on the smaller requests is "Use your spending money."
*It's taught them to use their money wisely. It means more to them because they earned it.
How Much to Pay Kids For Chores Is An Evolving Process
What we have found is that paying our kids for chores evolves over time. In fact, now that our daughter has turned 16 we are looking at doing something entirely different for her. Instead of paying her weekly for her completed chores, we are looking at paying her monthly. Here is how that would work.
We will look at all the expenses we might have for her in one month. This would include of course the amount we would pay for her completing all her chores. We will still hold her to those responsibilities and give incentives if she does more.
But the amount would also include money we would spend on clothing for her, incidental school related items, special events, etc. We would then take that amount (ex. $150) and give it to her all at one time at the beginning of the month. She would then be responsible to manage that money for her needs for the month.
The point of this is to have her set up a budget her own money. We will also open a checking account for her with her own debit card. Teens need to learn budgeting before they set out on their own. What better time to do it than while still under your supervision. Budgeting is a skill they will need if they are going to have long-term financial success.
We will see how that goes. Our oldest has been pretty good with money so far, having already earned a good amount on her first summer job last year. I'm looking forward to seeing how she will handle the added weight and responsibility of this change.
If you'd like to download a sample chore sheet you can find one on my "Resources" page by clicking here. It's an Excel file so you will be able to customize it to whatever chores are being done in your household.
And finally remember, with chores it's not necessarily how much you pay your kids that makes the process beneficial.
Questions for Discussion: What thoughts do you have on how much to pay kids for chores? How many chores are too many? Are there chores your kids do just because they are part of the family? Anyone use alternative reward options for finishing chores? Could you do laundry by the time you were a freshman in college?