The first house my wife and I owned was brand spanking new – right out of the box. We walked in to fresh paint, clean carpets, new appliances and a cute little covered porch right off the back door. Everything was so perfect…so new. We had no home remodeling costs to speak of.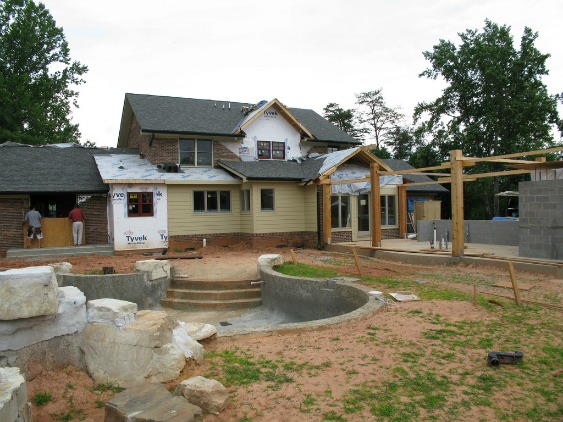 A few years and two kids later we decided it was time for some more space, so we moved into our second (and still current) home.
While nice, this home was, well…not so new.
The carpet was bad, EVERYTHING in the kitchen was dated, the deck was falling apart and who could forget that rust-toned, orange paint in the hall bathroom.
Of course we were thankful for finding a home to fit our growing family needs. But we knew changes to the home were in order…starting with the hideous orange bathroom.
Once the bathroom paint was satisfactory to our eyes, we set out creating a home projects to-do list. Needless to say it became quite long. In fact, 12 years later several of the projects on that list (like finishing the basement) have not been completed.
But in that time we have incurred some major home remodeling costs for our various projects including:
painting all the rooms in the house (some more than once)
remodeling our kitchen with new tile, appliances and countertop
updating our master bathroom with new tile, tub, shower and vanities
installing hardwood floors on the main level and new carpet for the upstairs
rebuilding the two-story deck
installing more energy efficient windows
replacing our roof
painting the exterior of the house
finishing our garage and installing two new garage doors
It has been fun transforming this place into "our home." It's taken some time and a good amount of money but it's now very pleasing to our eyes.
Where to Start Remodeling
If you are new to home ownership and have a remodeling to-do list a mile long, you may be confused on where to start. Many would suggest starting with those projects that will bring the best return or create the most value for the money you spend on it.
We took a different approach. Our focus was on:
a) what we could afford and
b) what contributed most to the home environment
That's why we repainted that bathroom within a month of moving in. It was a cheap fix and every morning it burned my eyes when I walked by. Plus there was no way we were having visitors over and force them to experience that room.
Almost all of our other projects have been more expensive. They required us to be patient and save money to fund their completion. None of our projects have been paid with debt.
That's going to be a big trap for you as a homeowner. You will want to get projects done right away. Instead of being patient and saving for all your home remodeling costs, you'll choose to put it on your credit card or take out a home equity line of credit. Many people choose that route and have gone deeper into debt seeking that immediate gratification.
My advice is to be patient and save for your renovations. Home remodeling costs can be extreme, especially once your emotions get involved. Envisioning how that brand new kitchen in the store showroom may look in your home may cause you to make a bad financial decision.
Various Home Remodeling Costs
As I said home remodeling costs can get out of hand. You have to be knowledgeable about what you are getting into for any particular project. To that end my friends from Choice Home Warranty have put together this infographic that shows what you might expect to spend for that home remodeling project:
Of course, these home remodeling costs are just estimates. Your project cost will vary based on many factors including in which region of the country your home resides.
But what should immediately stand out to you is the wide margin in price involved with some of these projects. Before you know it, what planned to be a $20,000 kitchen remodel could quickly balloon to $54,000. If you weren't planning ahead and chose to take out debt to finance it, you could be left paying off that kitchen remodel bill for years.
Take your time with home remodeling projects and weigh the cost. Always make sure to get multiple estimates. According to the pros at Art Construction, as many as "three or four contractors should be called to the property to inspect and estimate." Not everything has to be done at once. We all want our houses to look good but we don't need to go overboard and break the bank to do it.
Questions: We had an orange bathroom – What one thing just "had to go" when you moved into your home? What was the biggest home remodel project you completed? How have you financed your projects? Did one project turn out to be more than you expected? Would you ever spend $54,000+ to completely remodel a kitchen?
Image by Brock Builders at Flickr Creative Commons
Next Post: What Do I Need to Know About Homeowner's Insurance?
Prior Post: The Bribe That Fueled the All-Time Greatest Easter Myth