There's no doubt that earning an advanced degree of any sort can benefit your career — and the field of nursing is no different. While many nurses opt to earn specialized master's degrees, a smaller number choose to seek a terminal degree, or doctorate in nursing.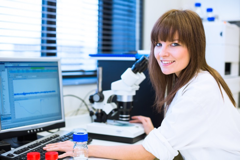 Part of the reason for the dearth of nursing doctoral candidates is confusion about which type of degree to earn. Nursing doctorates fall into one of two categories: Research-based or practice-based. While both have similarities, in the sense that the overall earning potential is about the same (average annual salary for a nurse with a terminal degree hovers around $90,000) and the number of opportunities available for each is the same, the two degrees are actually quite different.
An Alphabet Soup of Credentials
The first major difference between nursing doctoral degree programs is the type of degree that the program leads to: DNP or Ph.D. A program that leads to a DNP, or Doctor of Nursing Practice, is a practice-based program, designed to prepare nurses to serve as nurse leaders or in administration or management. There's also a growing push to require nurse practitioners, who currently can practice with a master's degree, to seek DNP degrees to ensure quality care.
A nursing Ph.D. program, on the other hand, is less focused on the actual practice of nursing or providing care, and more on developing the theory and best practices of nursing. Most nurses who earn a Ph.D. opt to seek employment in nursing research or academia — in fact, Ph.D.'s are in demand in nurse education programs, due to a widespread shortage of qualified educators.
Programming Differences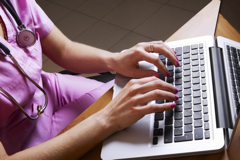 As you might expect, there are profound differences between DNP and Ph.D. programs, in terms of both qualifications for admission and the work required to earn the degree.
DNP programs generally require candidates to have a Bachelor of Science in Nursing or a Master's in Advanced Nursing Practice; those candidates with a master's degree usually have to complete fewer credits to earn the DNP. Most programs require between 70 and 95 credits as well as up to 1,000 clinical practice hours.
In most cases, DNP courses focus on building expertise in nursing practice, by applying research and theory to current modalities in a quest for constant improvement. For example, DNP candidates may complete courses in financial management, leadership, and evidence-based practice.
Most nursing Ph.D., programs, on the other hand, require candidates to hold a master's degree in nursing; some will accept those with a BSN degree. Coursework is largely research based, in terms of developing new research methods and developing new theories for nursing education and practice. Ph.D. programs also emphasize pedagogy, as a means of preparing nurses to teach in clinical and university settings.
Coursework generally focuses on advanced research methods, including conducting longitudinal and clinical studies, as well as statistical analysis and theoretical application. Most Ph.D. programs can be completed in about 60 credit hours, including an original dissertation project required of all candidates. DNP candidates typically do not complete dissertations or conduct original research, but instead complete a practical project that involves the application of nursing theory.
Which Program Is Right for You?
For some nurses, the choice between a DNP and a Ph.D. program is obvious. For others, it's less clear-cut. As you consider furthering your education, ask yourself the following questions:
What are my ultimate career goals?
Do I want to continue focusing on patient care? How would I feel about devoting the majority of my work to theory, and spending very little time (if any) in direct contact with patients?
Do I enjoy research?
Are you interested in pursuing a career in nursing education?
How long do I want to spend earning my degree?
What is my background? Am I prepared for a rigorous academic program?
What employment opportunities are available in my area?
Each type of doctoral degree has its advantages and disadvantages, and proponents on either side of the issue can make a compelling case for either degree. The decision really comes down to your personal goals and interest in furthering your own nursing career path, and in many ways, you really cannot go wrong.
Questions: Have you ever considered a career in nursing? Which track did you decide to take? What do you find most beneficial and fulfilling about the field of nursing?