I'm continuing my college theme week with a look today at flexible, part time jobs for college students and how they can help bring in some extra spending money.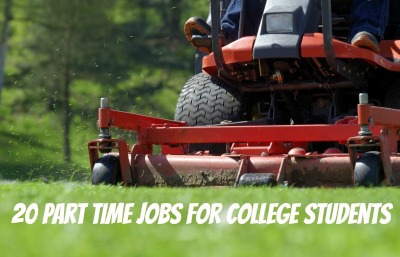 As I pointed out in my last post, there are so many hidden costs of college for which students don't prepare. More than likely they have figured out how to finance college tuition, fees, and room and board. However, those little incidental items they spend money on can certainly add up and cause a dent in the wallet. So, unless an endless stream of cash is flowing from mom and dad, students will need to secure some extra spending money.
The big question though is, what part time jobs can reasonably be done by college students? Yes, you could work a full-time job and attend classes but that's not what most students are looking for (or really need). The average student just wants enough spending money to go to parties, put gas in the car and pay for their books (maybe in that order).
With that in mind, here is a list of 20 part-time jobs and activities that could earn a college student a little bit of extra spending money.
Part Time Jobs for College Students: On Campus